Ever wanted new zombies to fight? Well you're in luck! 'Cause I recently made a mod(s) called the Nazi Zombies! And not the Nazi Zombies in the 1st person-shooter games, I'm talking zombies with cool armor! (BTW, I only modded a few zombies :P)
Football Zombie Helmet
Edit
Have football guys(I call them that) ever been annoying to you? Well make them look like aliens as payback!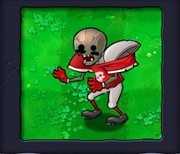 Football helmet is replaced with Zomboss' brain with eyes!
Eyes turn purple as you damage him!(Like when the helmet gets bent/beat up)
MORE COMING SOON!
Not all the zombies are in these mod(s)
I did not copy the brainiac zombies idea, I randomly made the football mod.